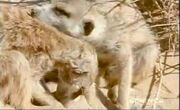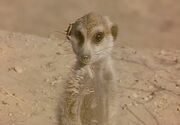 Ginger was a young female meerkat featured in the old documentary A Meerkat Family Saga. In the film, young Ginger's curiosity gets the better of her, as she wanders to near to a slumbering jackal and is bitten on the right side of her face, head, and ear. The following day, her family tried comforting her and waiting for her to join them in the daily hunt. Ginger managed to forage and find a grub, but eating was painful, so she retired to a bolt hole. Her family, once again, waited for her. Eventually, she got up and staggered away to another bolt hole, where loss of blood and weakness claimed her life.
Ad blocker interference detected!
Wikia is a free-to-use site that makes money from advertising. We have a modified experience for viewers using ad blockers

Wikia is not accessible if you've made further modifications. Remove the custom ad blocker rule(s) and the page will load as expected.