Gin Lazuli

Mob(s)

Dominant

Yes of a wild group

Date of Birth

December 21, 2005

Date of Death

October 12, 2007

Cause of Death

Last Seen

Parents

Litter-Mate(s)

Mate(s)

Unknown

Children

Unknown

Known For

Also Known As

Dominant Male of a wild mob
Lazuli
Gin
(VLM115) 
was born in the
Lazuli Mob
on December 21, 2005. His mother was the Dominant Female
Cazanna
and his father was a roving Vivian male named
Yossarian
. Gin had one litter-mate brother,
Tonic
(VLM116). They were Cazanna's last pups and survived a burrow raid from their Lazuli's rivals the
Whiskers
. Cazanna lived two year without a breeding mate after
Basil
died and his sons,Gin's uncles, had filled the dominant male role. In 2006
Aretha
took female dominance after Cazanna died from disease. By this time Gin and his brother were around a yera old and became rovers like their father. The twobrothers soon left the Lazuli for good in late 2007. Gin was Last Seen on October 12, 2007, as a dominant male of a wild group.
Meerkat Manor
Gin
and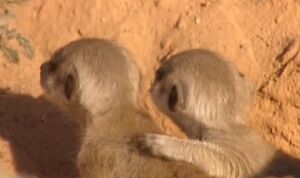 his brother
Tonic
were featured in the second season of
Meerkat Manor
as Yossarian and Pancake's unnamed pups, though they were really Cazanna's pups. In the episode
The Art of Leadership
the Whiskers attacked the Lazuli babysitting burrow where Pancake was babysitting the pups. Youssarian was roving nearby and was spotted by the Whiskers. He was mistaken as a Lazuli male and was chased off by half of his own family. The Lazuli group came back and easily chased away the remaining Whiskers. Unwittingly, Youssarian had saved his own sons. The two pups were not mentioned again following that.
Family
Mother: Cazanna
Father: Yossarian
Brother: Tonic
Grandmothers: Ziziphus and Vivian
Grandfathers: Belgarion and Phoenix
Great Grandmother: Venus
Links
Ad blocker interference detected!
Wikia is a free-to-use site that makes money from advertising. We have a modified experience for viewers using ad blockers

Wikia is not accessible if you've made further modifications. Remove the custom ad blocker rule(s) and the page will load as expected.