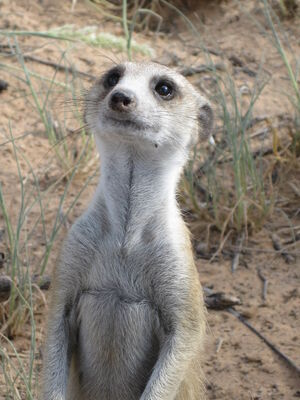 Lazuli
Finnlex(VLM151) was born on January 29, 2009 into the Lazuli. His mother was Young and his father was Wollow. His litter-mates were his sisters named Sammy Jo(VLF150), Bernie (VLF152) and three brothers named Chuck Norris(VLM153), Old Greg(VLM154) and Rufio (VLM155). The large litter of six survived and started foraging with the adults. Old Greg sadly died in November 2009, but the rest of Finnlex's litter survived to adulthood. Later in October 2010 Finnlex's sister Sammy Jo was Last Seen. The following year in March Finnlex's brother Chuck Norris was also Last Seen.  Not long afterwards in September 2011 Finnlex went roving for the first time along with his older brother Snowy. In October Rufio left the group to form the Cavemen Mob. Finnlex became a very common Lazuli rover over the years. In late September 2013 he and five other Lazuli males named Dis-Grace, Caleb, Cagliostro, Gobolino and Pip left the group.
Zulus
The six rovers joined Zulus who were a semi-habituated mob. By the end of September 2013 there was no clear dominant male of the group however Finnlex was the oldest of the males and most likely to take dominance. In November 2013, Finnlex finally took male dominance of the group beside the new dominant female VZUF003. But in December 2013 Finnlex was overthrown by Gobolino and VZUF003 was overthrown by Ocho Niple. Finnlex once again took to roving with the other subordinate males. Finnlex spent the next two years in the Zulus as a subordinate male and frequent rover. Tragically, he died in January 2016 of unknown causes.
Links
Ad blocker interference detected!
Wikia is a free-to-use site that makes money from advertising. We have a modified experience for viewers using ad blockers

Wikia is not accessible if you've made further modifications. Remove the custom ad blocker rule(s) and the page will load as expected.