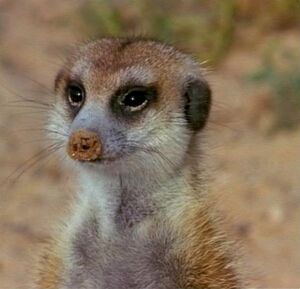 Figaro
(VLM037) was born on October 17, 1998 in the
Lazuli
. His mother was the dominant female 
Ziziphus
and and hsi father was dominant male
Belgarion
. He was born into a litter of six, his litter-mates were VLP031, VLP032,
Tatyana
(VLF033),
Papageno
(VLM034),
Elina
(VLF035) and
Lulu
(VLF036). The pups survived their first few days and emerged for the first time at three weeks of age. At four weeks of age VLP031 and VLP032 were predated when the pups started foraging. Figaro and the rest of his litter survived to adulthood. Figaro became an active member of the group. He and his brother Papageno started to go roving while his sisters started to be evicted. He soon became the last of his litter in the Lazuli. Figaro stayed in the Lazuli until June 25, 2001, when he permenately left and was never seen again.
Meerkat Madness
Figaro was featured in the 2000 documentary, Meerkat Madness: Walking with Meerkats, as a common sentry. His litter-mate sister Lulu was also seen on the show as a babysitter.
Links
Ad blocker interference detected!
Wikia is a free-to-use site that makes money from advertising. We have a modified experience for viewers using ad blockers

Wikia is not accessible if you've made further modifications. Remove the custom ad blocker rule(s) and the page will load as expected.