Ellie-Jade
(VAZM014)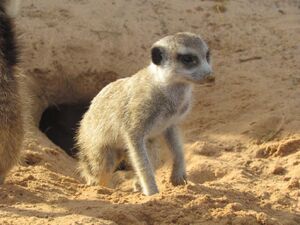 was born in the
Aztecs
on March 30, 2009. His mother was Monkulus the dominant female and his father was a roving male maybe
Michalangelo
, who was seen roving at the Aztecs a few months prior to Ellie-Jade's birth. Ellie-Jade had two litter-mates VAZP012 and
Che Che
(VAZM013). In April 2009 VAZP012 was sadly predated. 
He and his brother Che Che survived their first few weeks and started foraging with the adults. In September Monkulus gave birth to three new pups, Ellie-Jade was not old enough to help out with the new pups. He however was old enough to fend for himself. Both Ellie-Jade and Che Che soon reach their first birthday without much event. As an adult, Ellie-Jade started to help out with the new pups and sentry post. Like all younge males, he started to take to roving with the older males of the group. 
In August 2010 the Aztecs split in two with about half of the group were in the splinter. The splinter was led by The dominant male of the Aztecs was Zaphod, Monkulus' uncle, and her niece Burdock. Both Ellie-Jade and his litter-mate brother Che Che were in the splinter as well. The splinter group was made up of mostly male with a few of the eldest females. After a few days apart the two halves rejoined at the begining of the following month. Not long after this Ellie-Jade became one of the main rovers from the Aztecs along with his uncle Alonzo Mourning. He was seen roving several times a month until in late 2011 when Ellie-Jade disappared after roving in October 2011.
Links
Ad blocker interference detected!
Wikia is a free-to-use site that makes money from advertising. We have a modified experience for viewers using ad blockers

Wikia is not accessible if you've made further modifications. Remove the custom ad blocker rule(s) and the page will load as expected.