Dominique
Dominique
( VVHF020 ) was born into the
Van Helsing Mob
on April 9, 2009. Her mother was
Flo and
his father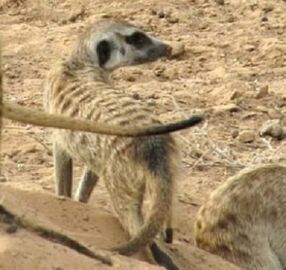 was 
Titan
. Her litter-mates are
Jizzle
 and VVHP021. Within that same month Dominique was born, her older cousin
Juani
 aborted her litter which she was carrying since March. One of the males named
Kapau Kakoo
 was absent from the group after roving in a roving expedition and within that same month of April he was considered last seen. In May Dominique's litter-mate VVHP021 was assumed predated after a disappearance. In July Dominque is 3 months old.  Her aunt
Billy miscarried
her litter and was evicted. She was not seen in the group along with
Plonker
. In August Dominique and her brother Jizzle are 4 months old and their mother Flo is pregnant. 3 members: Billy,
Tortilla
and Plonker were absent from the group during that month as well as
Troy
 so bringing the total number of absent meerkats to 4. In September Flo lost her litter. Troy,Billy and Tortilla returned to the group. Dominique is 5 months old and her mother Flo loses dominance to Billy. Of the members who returned to the group that month only Plonker remains absent. In October newly dominant Billy was pregnant and Flo,Tortilla,Chole and Juani were absent from the group. Plonker was then considered last seen. In November Billy gives birth to her litter (
Nando Boom!!
, 
Spot, 
Pups
,and
Harrison
). Dominique and her brother Jizzle are no longer the youngest in the group. Sadly her mother Flo is least seen in that same month along with Juani,
Chole
and Tortilla. In January Dominique is 10 months old. Billy is pregnant and
Hoki-Tu
 left the group to go roving. The group encountered
Baobab
and 4 pups at the end of the month. In June 2010 Dominique and
Emma
 from the group.
Family Tree

    = Male
    = Female
    = Gender Unknown
Ad blocker interference detected!
Wikia is a free-to-use site that makes money from advertising. We have a modified experience for viewers using ad blockers

Wikia is not accessible if you've made further modifications. Remove the custom ad blocker rule(s) and the page will load as expected.