Digger

Mob(s)

Dominant

Yes, formerly of Kwang

Date of Birth

Unknown

Date of Death

April 23, 1994

Cause of Death

Last Seen

Parents

Unknown

Litter-Mate(s)

Unknown

Mate(s)

KF002 and possibly KF001

Children

Possibly KF004 and KM006

Known For

Also Known As

Little Boy

Digger(KM002), also known as Little Boy, was First Seen in the Kwang Mob in February 1993. He was an adult male at the time so his date of birth could not be estimated. His parents were unknown meerkats and it's not known if he had any littermates. At the time his group consisted of only him, the dominant female KF001, the dominant male KM001, and a subordinate adult male KM003. The group struggled to survive as the family failed to successfully raise any pups. In September 1993, KM001 and KM003 were Last Seen. Digger became the next dominant male of the group. In late October KF001 disappeared, leaving Digger as the sole survivor. A month later he was joined by three wild meerkats including two females and a single male, Scarface. One of the females, KF002, became the dominant female. In January 1994 she gave birth to five pups, but only KF004 and KM006 survived. Sadly on the 23rd of April 1994 Digger disappeared and was Last Seen. Scarface became the next dominant male, but the Kwang were lost in November 2005.
A Meerkat Family Saga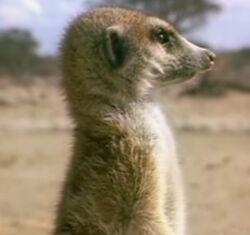 Digger played as the main character in the 1997 documentary 
A Meerkat Family Saga
. The documentary was mostly filmed in 1994 during the harsh drought. Though the Kwang group was primarily used to portray the main family, other mobs including a 'wild' group were also filmed. Two versions of the documentary were released: in one version Digger went by his real name and other Kwang members were given names. In the other version Digger was called Little Boy and his family members were not given names. The other members of the Kwang mob were referred to as Digger's parents or siblings, even though in reality his relation to them was not known. In the documentary a fire struck near Digger's home burrow, forcing his family to move burrows. Digger's sister 
Ginger
 was bitten by a jackal mother and later died. After moving again, Digger's pregnant mother gave birth to four pups but they died from a flood. In spite of Digger's attempts to renew the den, his mother moved the group on again. Digger's father was then predated by a jackal and mother was lost to a martial eagle, leaving only Digger and
Grace
behind. Grace eventually died of starvation, leaving Digger all alone. Digger is later accepted into a rival group led by
Scarface
 and becomes mates with a young female.
Links
Ad blocker interference detected!
Wikia is a free-to-use site that makes money from advertising. We have a modified experience for viewers using ad blockers

Wikia is not accessible if you've made further modifications. Remove the custom ad blocker rule(s) and the page will load as expected.