Daisy
was born in January 2013 into the
Gosa Mob
.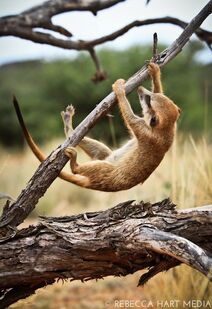 Her mother was the dominant female
Cleopatra
and her father was most likely the group's dominant male
Malaki
. There were five pups in Daisy's litter with a sister named
Flo
, brother named
Zeus
and two unnamed pups that sadly were lost in February 2013. Daisy was the most boisterous of the pups in her litter and was seen spending much of her time annoying her more princess-like sister Flo. In May 2013 Daisy was bitten by a puff adder at only four months old. Due to her young age, she sadly did not survive.
Links
Ad blocker interference detected!
Wikia is a free-to-use site that makes money from advertising. We have a modified experience for viewers using ad blockers

Wikia is not accessible if you've made further modifications. Remove the custom ad blocker rule(s) and the page will load as expected.