Compare the Meerkat
is a website created by a British comparison car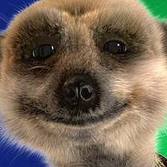 insurance company,
comparethemarket.com
, in January of 2009. It is a site where you are able to fill in information about a certain kind of
meerkat
such as its size, location, and hobby. It will then lead you to a picture of the meerkat matching all of the answers you put in, and then it includes a special feature to compare your meerkat to another. In early 2013 the adverts were introduced to Australia and a second Australia-based website was made.
Aleksandr Orlov
Aleksandr Orlov is a CGI Russian meerkat who stands in as the main character for the Compare the Meerkat television advertisements. He is famous for his trademark squeak and catchphrase, "Simples". He became notably popular following the release of his autobiography; A Simples Life: The Life and Times of Aleksandr Orlov, which was released on 28 October 2010. Plush toys, continuing adverts, "interviews" with The Sun, a book series titled Meerkat Tales (featuring other meerkat characters) and the limited opening of his own shop have assisted in the rise to fame for the computer-generated meerkat.
Other Characters
Sergei - Aleksandr's assistent who seldom speaks.
Oleg - The baby meerkat who belongs to Aleksandr & Sergei
Vassily - a regular at the Queasy Mongoose pub.
Maiya - a teacher at the Meerkovo School.
Bogdan - a naughty meerkat pup.
Yakov - a toy maker.
Meerkovo
Meerkovo is an online meerkat village you are able to explore. Visitors can take a look inside Aleksandr's Mansion, The Care Home for retired meerkats, the Meerkovo School, Yakov's Toy Shop and the local pub; the Queasy Mongoose, and interact with some the meerkats and objects.
Gallery
Links
Ad blocker interference detected!
Wikia is a free-to-use site that makes money from advertising. We have a modified experience for viewers using ad blockers

Wikia is not accessible if you've made further modifications. Remove the custom ad blocker rule(s) and the page will load as expected.