Clan of the Meerkat is a National Geographic Wild wildlife documentary that aired in 2010- November in Australia and December in the UK. The program runs for 60 minutes. Currently, it is not available on DVD. It is not to be confused with a similarly-titled documentary called Clan of the Meerkats, also known as Meerkats 3D.
Summary
Clan of the Meerkat looks into the close-knit lives of a meerkat family of five living in the hostile Namib Desert in Africa, west of the better-known Kalahari Desert. Here the family, after losing many of its members to predators the previous year, must rely on co-operation in order to survive and raise their precious pups. Together they face jackals, birds of prey, snakes, and the harsh climate of their unforgiving environment.
Meerkats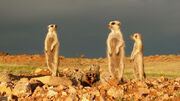 The meerkats featured in this documentary include:
Maki - The dominant female of the clan.
Bruce - The dominant male and Maki's mate.
Chlorice - Maki's sister and contender for dominant female.
Bill - Maki and Bruce's son.
Ted - Maki and Bruce's son.
Lily - Maki and Bruce's daughter, who sadly dies
Joe - Maki and Bruce's son.
Jack - Maki and Bruce's son.
Gallery
Links
Ad blocker interference detected!
Wikia is a free-to-use site that makes money from advertising. We have a modified experience for viewers using ad blockers

Wikia is not accessible if you've made further modifications. Remove the custom ad blocker rule(s) and the page will load as expected.