Cho
(VCDF040)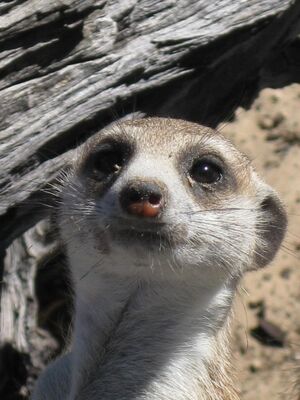 was bron in the
Commandos
on February 16, 2008. Her mother was
Beatrice
and her father was an unknown rover. Cho's litter-mates were
Everest
(VCDM039),
Kili
(VCDF041) and VCDP042. They were
Zorilla
's first grandchildren born in the Commandos.The same month they were born dominant male
Zarathustra
died. and his younger brothers
Baker
and
Miles
fought for dominance. Baker won and took over as dominant male. Cho and her litter survived and started to foraged but VCDP042 was predated in April. Baker lost dominance to Miles and died in May 2008. Beatrice was evicted along with
Samba
and
Celidh
in July 2008, only Samba and Celidh managed to rejoin the group while Beatrice disappeared. Cho and her remaining brother and sister survived their first few months.
Karim
died of TB followed by Miles, Zorilla and
Cody
. Celidh and
Panthro
took over as the dominant pair. He sister Kili gave birth to a litter in March 2009. Two of the pups were sadly predated. Cho died along with Kili, 
Rastas
and Celidh and the Commados disappeared in June 2009.
Links
Ad blocker interference detected!
Wikia is a free-to-use site that makes money from advertising. We have a modified experience for viewers using ad blockers

Wikia is not accessible if you've made further modifications. Remove the custom ad blocker rule(s) and the page will load as expected.