Chico Los Angeles Zoo

Mob

Los Angeles Zoo

Date of Birth

1999

Date of Death

N/A Still Alive

Cause of Death

N/A Still Alive

Mob-Mates

Spanky, Barky, and four other meerkats

Also Known As

Chico the Lonely Meerkat
Chico is a meerkat that lives in the Los Angeles Zoo.
In the Zoo
Chico was born sometime in 1999. It's unknown when his exsact birthday was. It's also unknown where he was born. He lived with his friend Spanky for many years. In December 2007 Spanky passed and left Chico alone. Chico lived alone for eight long months. Thanks to Meerkat Manor, meerkats have become very popular. People started to have concerns about Chico living alone but the L.A. Zoo said animals are capable of living alone. Many other animals often live alone like tigers, bears and solitary animals. Some people also agreed with that statement and preferred that people should leave Chico alone. Soon a petition was made to get Chico new mob-mates so he wouldn't be lonely, but the zoo disagreed.
"Meerkats can be managed as solitary animals with appropriate care" says Jason Jacobs, an L.A. Zoo spokesman.
However meerkats are highly social animal and need the company of another animal for preferred heath. Evicted female lose the ability to breed. Lone meerkats are more nervous about predators.
"Chico has age-related arthritis and teeth problems, which might make self-defense problematic," said Jennie McNary, curator of mammals at the Los Angeles Zoo. "While meerkats are social by nature, they're also territorial and aggressive."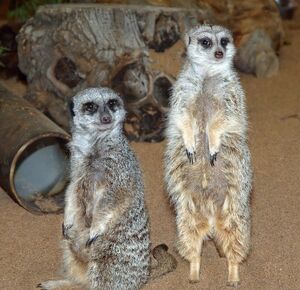 Meerkats are territorial by nature. Mobs fight other mobs to keep territory. However meerkats do join other meerkats from rival mobs, in many cases they form new mobs. Like the
Sequoia
mob which was formed by two female from different mobs.
Benzedrine
was from the feared
Commandos
while
Finn
was from the famous
Whiskers
. Both mobs fought over territory and both female were involved. Evicted females and roving male do for a truce if they are alone.
Finally the Virginia Zoo agreed to transfer one of their meerkats to Los Angeles. On February 24, 2009 Chico got a new friend named Barky. The two became best of friends almost as soon as they saw each other. Then North Carolina Zoo transferred four more meerkats, three females and one male, making a new mob in the L.A Zoo. There are now a total of six meerkats living together making a new mob at the L.A Zoo. All five meerkats are living happily with Chico. Thre two of the female and the one male from North Carolina are all from the same litter with a female from another litter. Their named are Slate, Rosie and Pat. Chico has received a new enclosure to suit his new mob-mates. He can be visited daily at the Los Angeles Zoo from 10 am to 5 pm.
Gallery
Pictures of Chico and his Mob-mates.
Links
Ad blocker interference detected!
Wikia is a free-to-use site that makes money from advertising. We have a modified experience for viewers using ad blockers

Wikia is not accessible if you've made further modifications. Remove the custom ad blocker rule(s) and the page will load as expected.