Aztecs
Cameron
(VAZM019) was born in the
Aztecs Mob
on December 16, 2009. His mother was the dominant female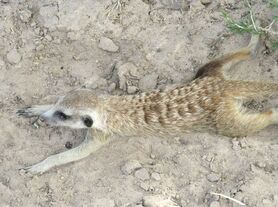 Monkulus
, and his father was an unknown roving male. His three litter-mates were his one brother
Gerald Durrell
(VAZM021) and two sisters
Mollie
(VAZF020) and
Kathleen
(VAZF018). The pups survived their first few weeks. They started to foraged with the adults. In March, Monkulus gave birth to a new litter of pups making Cameron and his litter-mates big siblings. They aren't the pups of the Aztecs any more. All four pups survived to their first year. Monkulus started to evicted females and the males started to rove. Kathleen and Mollie managed to stay within the group while Cameron and Gerald Durrell started to rove with the other males. In June 2011, Mollie left the group along with two other females and formed the
Pandora Mob
. The following month Kathleen and another female were evicted and join the Pandora mob. That same month Cameron's litter-mate brother Gerald Durrel died leaving Cameron as the last of their litter still in the Aztecs. However sometime with in the next month Kathleen and Zelda wre evicted from the Pandora and rejoin the Aztecs Mollie remained in the Pandora. Cameron stayed in the Aztecs for another year till in July 2012, he went roving with his older brother
Dali
.
Nequoia
The two males went roving at the nearby Nequoia Mob. The males were away roving so the two Aztecs joined the group. Dali was older and easily became the dominant male. Cameron made no effort to take dominance. A few months later Cameron's older brother Chaka joined the group. He sadly died of TB in December along with a Nequoia female named Luna
Family
Mother: Monkulus
Father: Unknown
Brother: Gerald Durrell
Links
Ad blocker interference detected!
Wikia is a free-to-use site that makes money from advertising. We have a modified experience for viewers using ad blockers

Wikia is not accessible if you've made further modifications. Remove the custom ad blocker rule(s) and the page will load as expected.