Calvinia Lazuli

Mob(s)

Dominant

No

Date of Birth

January 4, 2008

Date of Death

February 2010

Cause of Death

No information

Parents

Litter-Mate(s)

Mate(s)

Unknown

Children

Known For

Young's daughter

Also Known As

Christiana's sister

Calvinia(VLF133) was born on January 4, 2008, into the Lazuli. Her mother was Young, and her father was an unknown male. She had three litter-mates: a sister named Christiana(VLF134) and two brothers named Prieska(VLF131) and Lutzputz(VLF132). When Calvinia was five months old, the dominant female Aretha died, leaving Young as the new dominant female. A month later, five Whiskers males joined the group, and Wollow took dominance next to Young. Calvinia and her litter all survived to adulthood. In November, Calvinia aborted her first litter; however, she was still evicted. In January 2009, Calvinia and Caroline were pregnant, possibly after having mated with the males who would later join the Sequoia. However, both females lost their litters in February. Calvinia and Christiana both mated with Baobab males and became pregnant, but both females had a miscarriage in June. Calvinia and her sister quickly became pregnant again in August, possibly after mating with some Whiskers males. On September 24, 2009, she gave birth One Eyed Wilma, O'Toolie, Shallot, and Sossusvlei. Young had also given birth to a litter; however, she made no attempt to kill the subordinate litter. Then in October, Axel, Prieska, and Lutzputz all left the group and team up with a Toyota female named Stop It and a wild meerkat to form their own short-lived group. A month later in November, Calvinia was evicted along with Christiana and three of her younger sisters. In December, her sister Christiana lost her litter and Calvinia became pregnant again along with Young and Hen. Calvina lost her litters when Young and Hen gave birth to a mixed litter in Febaury 2010. Calvinia was evicted and disappeared without a trace. Calvinia was considered Last Seen by February 2010.
Family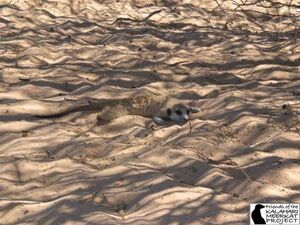 Mother:
Young
Father: Unknown
Sister: Christiana
Brothers: Prieska and Lutzputz
Mates: Unknown
Daughters: birth One Eyed Wilma, O'Toolie, Shallot, and Sossusvlei
Links
Ad blocker interference detected!
Wikia is a free-to-use site that makes money from advertising. We have a modified experience for viewers using ad blockers

Wikia is not accessible if you've made further modifications. Remove the custom ad blocker rule(s) and the page will load as expected.