Caleb
(VLM177), formerly named
T. Burger
,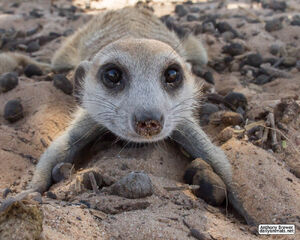 was born in November 2010 in the
Lazuli
. His mother was the dominant female
Young
and his father was
Rufus
, the dominant male. Caleb was born with two litter-mate brothers named
Dis-Grace
(VLM175) and
Jimp
(VLM176). They were the first litter fathered by Rufus, who had overthrown the former dominant male
Wollow
in February 2010. Caleb and his two brothers survived to adulthood. Nearly three years later in September 2013, Caleb left the Lazuli along with several of his older male relatives.
Zulus Mob
Caleb and the other rovers joined the Zulus Mob. All of the males competed for the position of dominant male, but Caleb remained a subordinate male and a regular rover during his stay. In July 2015 Caleb, Dis-Grace, Gobolino, Flammkuchen and Laurentina left the Zulus to form a subgroup called Tulus. All of the males except for Caleb returned to Zulus, leaving just the two members behind. Laurentina was pregnant at the time and gave birth in September 2015. Sadly she disappeared after that and was predated two weeks later. What became of her pups is unknown. Caleb returned to Zulus by the end of the month. He is still alive and living in Zulus today.
Links
Ad blocker interference detected!
Wikia is a free-to-use site that makes money from advertising. We have a modified experience for viewers using ad blockers

Wikia is not accessible if you've made further modifications. Remove the custom ad blocker rule(s) and the page will load as expected.