Introduction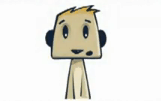 Cachou is a meerkat character created by Lapland Studios, who are also the creators of the available WiiWare game,
Lead the Meerkats
. He is introduced in three videos on Youtube by Lapland Studios about connecting your Nintendo Wii to the internet and shopping for WiiWare games on the Nintendo Wii. He is call the "Helpful Meerkat" and the host of the video as he teaches you how to connect and shop on the Nintendo Wii.
Links to Video
http://www.youtube.com/watch?v=3qzJj2J6O0o
http://www.youtube.com/watch?v=oafBDeJz1CY
Ad blocker interference detected!
Wikia is a free-to-use site that makes money from advertising. We have a modified experience for viewers using ad blockers

Wikia is not accessible if you've made further modifications. Remove the custom ad blocker rule(s) and the page will load as expected.