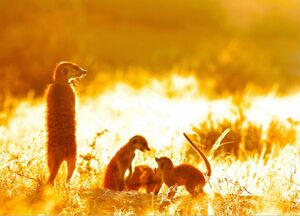 Butch(VBBM080) was born on November 23, 2011, into the Baobab. His mother was the dominant female Cruise, and his father was most likely the dominant male Al Capone. Butch was born into a litter of three; his two litter-mates included a brother named Sundance Kid(VBBBM081) and a sister named Cassidy(VBBF079). Butch and his litter-mates all survived to adulthood. Butch started roving in July 2012 with other members of the group. Throughout 2013, he went roving four times, but he always returned to the Baobab. That year his mother Cruise was sadly predated, and Butch's sister Amarula became the new dominant female of the group. Meanwhile, Butch's possible father Al Capone took to roving. After Cruise's death, Al Capone left the group, leaving the position of dominant male vacant. At the end of 2013 Butch's brother Mr. Lahey became the new dominant male. In 2014, Butch's roving trips became more frequent and prolonged; he went roving eight times. Late that year, Mr. Lahey left the group. It wasn't until February 2015 that Butch took up the role and became the fourth dominant male of the Baobab. However, as the dominant female was his sister, he spent some time away roving in search of an unrelated female. His time as dominant male only lasted three months, as he left the group in May 2015.
Drie Doring
Butch, Gansen, Laddu, Bedonde, and Goldeneye left the Baobab together and joined the Drie Doring mob.  The Drie Doring had recently lost their long-term leader Mist and no new female had taken up dominance. At the time the group had a dominant male, T-Bone, but after the Baobab males immigrated the position of dominant male was left unfulfilled, but by June 2015, Butch had become the dominant male, alongside the new dominant female Parmesan. In August, Parmesan gave birth to a mixed litter, most likely fathered by Butch, along with her sister Red Lieciester. Sadly, Parmesan died of TB in January 2016. Red Lienciester had assumed female dominance by the following month. Tragically, TB continued to spread in the group and Butch too succumbed to the disease along with Red Lienciester and several other meerkats in March 2016.
Links
Ad blocker interference detected!
Wikia is a free-to-use site that makes money from advertising. We have a modified experience for viewers using ad blockers

Wikia is not accessible if you've made further modifications. Remove the custom ad blocker rule(s) and the page will load as expected.