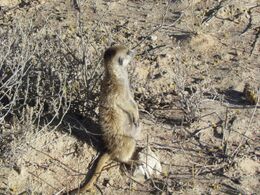 Bungee(VJXF032) was born into the JaXX on November 17, 2010. Her mother was Diana, and her father was an unknown rover. Bungee was born in a large litter of five, her litter-mates composing of VJXP031, Norman(VJXM033), VJXM034, and Cheesy Puff(VJXF035). Sadly, VJXP031 was quickly lost and in January of 2011, VJXM034 was predated. Bungee and her remaining brother and sister survived to adulthood. Bungee ignored the rovers that appeared at the group and managed to avoid being evicted for almost two years, despite becoming one of the oldest adult subordinates. In September 2012, Bungee was showing signs of being pregnant. On October 9, 2012, she gave birth to Cloudbreak, Mavericks, Jaws, and Teahupo'o. Bungee was evicted that same month and was absent along with her older sister Arcee; one month later, they returned to the group and Bungee was re-united with her pups. Sadly, Jaws was lost in December and Mavericks was predated a month later in January. Now that she had a litter, Bungee had become a prime target for eviction, so in July 2013, Bungee was evicted from the group. She reappeared in August 2013, but disappeared after that and was considered Last Seen.
Links
Ad blocker interference detected!
Wikia is a free-to-use site that makes money from advertising. We have a modified experience for viewers using ad blockers

Wikia is not accessible if you've made further modifications. Remove the custom ad blocker rule(s) and the page will load as expected.