Blondie
(VRRF087)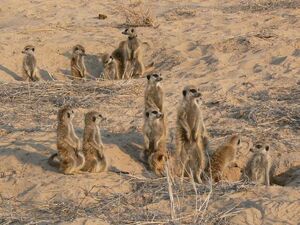 was born on April 2, 2005 in the
Rascals
. Her mother was
Yeca
and her father was
Spofi
, the dominant pair of the Rascals at the time. She was born with one sister named Skwodnee(VRRF086) and three brothers named Darg(VRRM088), Feild(VRRM089) and Fool(VRRM090). All five pups survived to adulthood. Blondie started helping her mother with the pups and managed to stay inthe Rascals till soon she was one of the oldest females. After Yeca died, Blondie established dominance over the Rascals which consided of mostly males. Her father and sister died and in June 2007, another female named Nelly died. Blondie's older brother named
Harvey
assumed the role of dominant male in the absents of unrelated males. Things went well for the Rascals untill all the adultmales took to roving. In October 2007,
Fable
and
Clinton Baptiste
from the
Frisky
joined the Rascals while all the Rascals males were roving. Fable assumed dominance while Clinton Baptiste left to rove again. Fable sadly disappeared around the time two wild males named
Hoki
and
Yebo!!!
joined the group, Hoki assumed dominance. In January 2008,
Freya
disappeared while the three remaining females Blondie,
Islay
, and
Tooey
were all pregnant. They gave birth in February but each one's litter was lost. In March Yebo!! dissapeared and in April Hoki left the three females alone. In May three new wild males VRRM108, VRRM109 and VRRM110 joined the group. In July, Islay was pregnant and she gave birth in August to five pups. However by September four of the new pups were dead and her son
Tigi
was left as the only survivor. In November, two of the wild males dissapeared while Blondie gave birth to her first surviving litter of
Rioja
,
Sancerre
,
Grigio
, VRRP117 and VRRP119. VRRP117 and VRRP119 died shortly afterwards but the other three pups survived. Finally in December 2008 two new wild males joined the Rascals after the previous males disappeared. One of the males named
Grus
took over as the dominant male beside Blondie. In March 2009 Blondie gave birth to
Crux
,
Vela
,
Ara
,
Lyra
,
Izar
and VRRF127, six pups in all. In February 2009, Tooey and VRRM121 the othe wild males disappeared. In June 2009, Blondie was absent from her family and by July 2009 Blondie was listed as Last Seen. She had been the Rascals' dominant female for two years. Her younger sister Islay took over as the dominate female before she too died the following month leaving Blondie's ten month old daughter Sancerre to become the new dominate female of the Rascals.
Links
Ad blocker interference detected!
Wikia is a free-to-use site that makes money from advertising. We have a modified experience for viewers using ad blockers

Wikia is not accessible if you've made further modifications. Remove the custom ad blocker rule(s) and the page will load as expected.