Benno
(VCDM035) was born into the
Commandos Mob
in November 2007. His litter-mates were
Yara
(VCDF036),
Sera
(VCDF038) and
Cody
(VCDM037). His father was
Jogu
and his mother was
Zorilla
. His father was a rover from the
Whiskers
. Before he was born five Whiskers males had emigrated into the group, where
Zarathustra
took male dominance next to his mother. Jogu did not join the
Commandos
with the five males. He returned to the Whiskers before he disappeared while roving. His mother Zorilla died leaving his half sister
Celidh
as the new domiant male. Four of the Whiskers males died leaving
Panthro
as the dominant male next to Celidh. He and his siblings made it to adulthood but Cody died of disease in January 2009. The Commandos moved out of the monitored area and could no longer be tracked. It is unknown what happened to him and his siblings.
Meerkat Manor
Benno was feactured on Meerkat Manor: The Next Generstion. He played an unknwon pups in the Commandos. He was the step son of Zorro(Zaratustra) and the new Commandos troopers. Nikita(Zorilla) and mated with a Whiskers rover named Seacrest(Jogu). Burdock played Seacrest joining the Aztecs however. Miles and Baker played themselves while Panthro played Dizzy. Karim played Duke who mated with Kleintjie who played Rosie.
Family
Mother:
Zorilla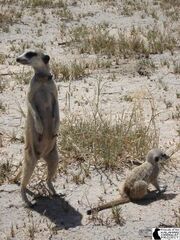 Father: Jogu
Brother: Cody
Gandmothers: Baddiel and Risca
Links
Ad blocker interference detected!
Wikia is a free-to-use site that makes money from advertising. We have a modified experience for viewers using ad blockers

Wikia is not accessible if you've made further modifications. Remove the custom ad blocker rule(s) and the page will load as expected.