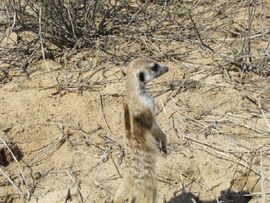 Bebe(VKUF041) was born on October 27, 2010, into the Kung Fu. Her mother was Kleintjie, and her father was most likely Ningaloo. She had three litter-mates including one brother called Yeah Boi(VKUM040) and two sisters named Kensie(VKUF042) and VKUF043. They all survived to adulthood. In July 2011, Bebe and her brother Yeah Boi, along with many other Kung Fu meerkats, were absent from the group, but they had all returned by the following month. In February 2012, a group of Kung Fu males went roving. Surprisingly, Bebe went roving with them. That same month, VKUF043 sadly died. In September and October 2012, Bebe, her sister Kensie, and many other Kung Fu females were evicted. Bebe was Last Seen in February 2013 after being evicted.
Meerkats: Secrets of an Animal Superstar
Bebe appeared in the 2013 documentary Meerkats: Secrets of an Animal Superstar. She was seen as the "weakest" mature subordinate female in the Kung Fu mob. In spite of Bebe's attempts to hide, her pregnant mother Kleintjie found her and viciously evicted her and three of her relatives. The evictee's tried to rejoin a number of times but were rejected until after Kleintjie had given birth. Bebe and her sisters were then re-accepted into the group and became primary babysitters for Squirt and Weeny.
Links
Ad blocker interference detected!
Wikia is a free-to-use site that makes money from advertising. We have a modified experience for viewers using ad blockers

Wikia is not accessible if you've made further modifications. Remove the custom ad blocker rule(s) and the page will load as expected.