Amelie
(VGGF027) was born on July 4, 2005 into the
Gattaca Mob
. Her mother was not Risca, but her daughter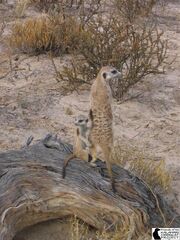 Gringo
. Her only known litter-mates were her sister
Olly
(VGGF024) and brothers
Hugo
(VGGM025) and
Flint
(VGGM026). Her mother and some of the older females were evicted or died. Amelie soon bemace one fo the oldest females in the group. Then a group of Vivian females joined the Gattaca. Risca started to evicted the oldest females too keep her place as dominant female. Amelie was evicted and disappeared with other Gattaca females around the time Hannibal disappeared. Her brothers Hugo and Flint went roving and disappeared on September 6, 2006. Olly Disapeared on March 13, 2007. Amelie was Last Seen on April 15, 2007.
Family
Mother: Gringo
Father: Unknown male
Sister: Olly
Grandmothers: Risca and Vivian
Grandfathers: Mojadji and Stinker
Uncle: Pancho
Links
Ad blocker interference detected!
Wikia is a free-to-use site that makes money from advertising. We have a modified experience for viewers using ad blockers

Wikia is not accessible if you've made further modifications. Remove the custom ad blocker rule(s) and the page will load as expected.