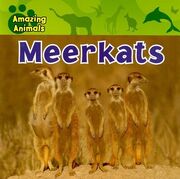 Amazing Animals: Meerkats
is an educational book aimed at young readers. It is part of the
Amazing Animals
 book series. It was written by Justine Ciovacco and was published by Gareth Stevens in 2009.
Summary
Amazing Animals: Meerkats explains the life of hard-working meerkats. It covers the meerkats' duties, reproduction cycle, social system, location, diet and the outlook on their future. This book also includes a quiz for readers to test their knowledge on meerkats, a glossary to define difficullt words and fun facts scattered throughout the pages to give additional information on meerkats.
Links
Ad blocker interference detected!
Wikia is a free-to-use site that makes money from advertising. We have a modified experience for viewers using ad blockers

Wikia is not accessible if you've made further modifications. Remove the custom ad blocker rule(s) and the page will load as expected.