Addo Mob

Date of Forming

Unknown

Founders

Dominant Female(s)

Dominant Male(s)

Current Dominant Female

Unknown

Current Dominant Male

Unknown

Number of Members

N/A

Pregnant Meerkat(s)

Unknown

Evicted Meerkat(s)

Unknown

Roving Meerkat(s)

Unknown

Absent Meerkat(s)

Unknown

Pup(s)

Unknown

The Addo Mob was formed many years ago (exact date unknown, sometime before 1996) by wild meerkats from South Africa's Addo National Park, located much for much further south of the Kalahari Meerkat Project. The group became famous in 1996, when they were featured in the documentary, Meerkats Divided.
Dominant Pair
The only known dominant pair of the Addo Mob included Browneyes and Enkozi. In the documentary, it was said that the two could possibly be relatived, however, seeing as Enkozi attempted to mate with Browneyes during the film, that theory seems unlikely. The pair are both presumed to be deceased, given how long ago the documentary was filmed, and since the group is not followed and recorded, it is unknown if the Addo Mob is still alive. Given the larger abundance of food in South Africa, the Addo gang have a better chance of survival over the desert meerkats. There are still many meerkat mobs seen in Addo National Park where the Addo Reserve is located. The Addo mob could still be alive today. However since the filming of Meerkats Divided, many of the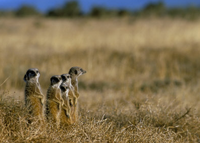 members probably have immigrated into other groups, some may have formed new groups and could be dominant meerkats today.
Known Members
In the documentary, there were approximately 10 - 15 members, several of which were pups. But the only named members were Browneyes and Enkozi.
Rivals
The Addo gang had one major rival group who were featured twice in the documentary, Meerkats Divided. The rivals often fled from the Addo group, but attacked Enkozi when he was alone.
Meerkats Divided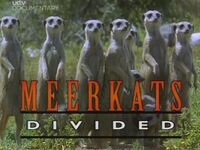 In Meerkats Divided, the Addo gang welcomed new additions to their family. Several pups nearly doubled the size of the group. The gang defended their new pups from birds of prey, a jackal and a rival group. When a storm threatened to flood the group's burrow, the dominant female, Browneyes, moved them to higher grounds. One of the Addo males were injured in a small confrontation with a roving male,
Bandit
, but survived. The gang often bullied a subordinate female, but she was never evicted. At the end of the documentary, Enkozi wandered away from his family and was attacked by an enemy meerkat group. Luckily, he survived and returned home to be reunited with his mate, Browneyes.
Ad blocker interference detected!
Wikia is a free-to-use site that makes money from advertising. We have a modified experience for viewers using ad blockers

Wikia is not accessible if you've made further modifications. Remove the custom ad blocker rule(s) and the page will load as expected.